Independence of Montenegro is definitive and unquestionable for the vast majority of Montenegrin citizens, relations with Serbia are assessed as the best in comparison to former Yugoslav countries. However, there is a prevailing belief that official Serbia influences internal affairs in Montenegro, and such interference is significantly noticeable even when it comes to the Serbian Orthodox Church (SOC). The main perceived issues of concern between the two states are their stance on Kosovo's independence and the NATO alliance. The trend of Western partners losing influence in Montenegro continues, despite over three-quarters of the population supporting EU accession and more than half supporting NATO membership. A significant majority believes that Montenegrin identity is independent of Serbian (72%), with a slightly smaller number recognizing the Montenegrin language (63.5%). Most citizens consider that neither Serbs nor Montenegrins are endangered in Montenegro today. The general population largely supports Kosovo's independence, recognizes the Srebrenica genocide, aligns with Ukraine in the Russian-Ukrainian war, but significant differences exist based on political party preferences. These are some of the key findings of a public opinion research on relations between Montenegro and Serbia, conducted by the Centre for Civic Education (CCE) in collaboration with the DAMAR Institute, as part of a joint project between the CCE and the Regional Academy for Democratic Development (ADD), with the support of the Embassy of Switzerland.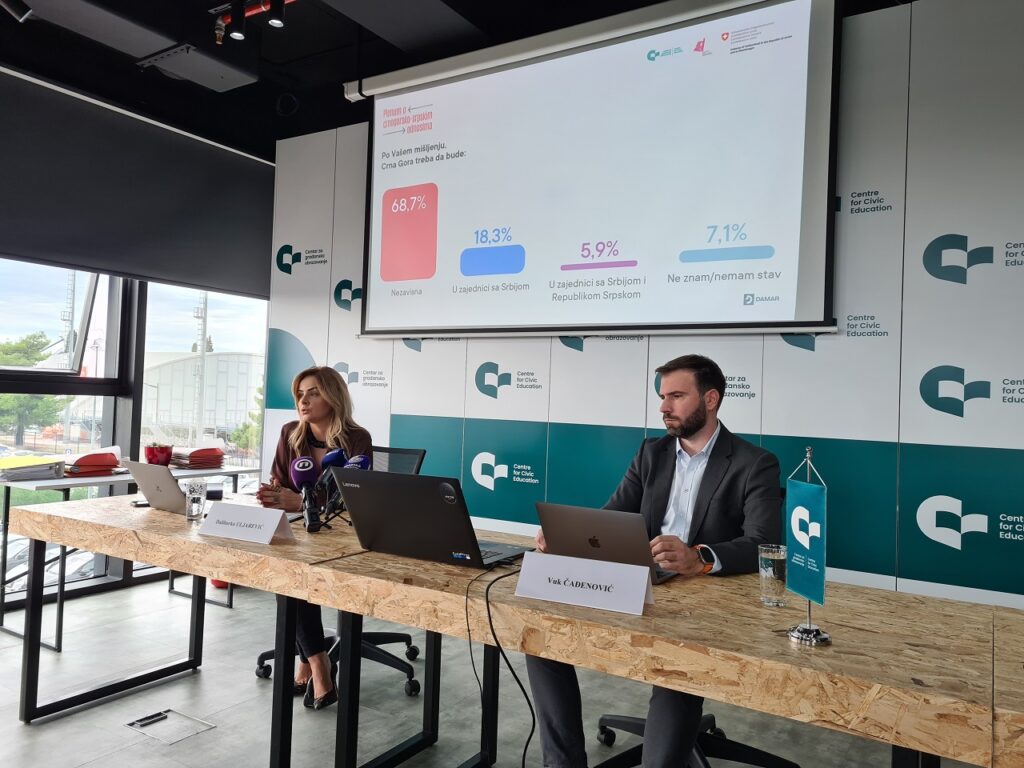 "Independence of Montenegro is definite and unquestionable for the overwhelming majority of Montenegrin citizens (77.3%), while just over one-fifth (22.7%) still have questions about it. When asked whether a referendum on Montenegro's independence should be repeated, the majority (67.4%) believe it should not be done, while just under a quarter (24.3%) think it should. Similar findings emerge about whether referendums on the unification of the two countries, Montenegro and Serbia, should be held. Even in the event of such a referendum being held again, 68.7% firmly hold the view that Montenegro should remain independent, while less than a fifth (18.3%) support a union with Serbia, and about 6% favour a union with Serbia and Republika Srpska," stated Daliborka Uljarević, executive director of the CCE, during the presentation of the survey data.
She emphasized that differences in deeply polarized Montenegrin society have ethnic and political characteristics, noting that among those who do not believe that Montenegro's state-legal status is a closed question and that a referendum should be repeated or a new one held on unifying with Serbia, are mainly those who vote for the For the Future of Montenegro (ZBCG) coalition and the SNP, as do those who identify themselves as Serbs. From the same categories are those who would like to live in some form of union with Serbia or with Serbia and Republika Srpska.
Compared to its neighbours from the former Yugoslavia, the relationship with Serbia is perceived as the best by nearly one-third (32.4%), followed by Bosnia and Herzegovina (12.4%), Croatia (8.7%), Slovenia (3.3%), Kosovo (3.1%), North Macedonia (2.1%), while the largest group cannot assess the development of relations with the now independent states with which they were once in a common country (38.1%). About 40% of people perceive the quality of the relationship with Serbia as good or excellent, over 30% believe it is neither good nor bad, while 22% consider it to be bad or very bad.
"More than half of the citizens (53%) see the influence of official Serbia on internal affairs in Montenegro, while about 30% believe that this influence does not exist. The perception of Serbia's influence is prevalent among those who identify as Albanians, Bosniaks, Muslims, Montenegrins, Croats, but is also present among nearly two-fifths of those who identify as Serbs. Consequently, it is significantly more pronounced among parties representing minority people, as well as among so-called pro-Montenegrin option parties (DPS, SD, LP, SDP), and the movement 'Europe now' (51.4%)," Uljarević noted.
When it comes to identifying the main issues in the relationship between Montenegro and Serbia, respondents could give multiple answers, and differences emerge regarding recognition of Kosovo (47.7%) and the attitude towards the NATO alliance (34.2%), but also include Serbia's interference in Montenegro's internal political affairs (32%) and the Serbian government (27.3%). Additionally, issues such as the lack of diplomatic relations at the ambassadorial level (19.7%), the Montenegrin government (18%), poor economic cooperation (17.5%), and more are also listed. The position of Serbs in Montenegro is positioned low on the scale of perceived problems (16.7%), as well as the external influence of the EU and Western countries (15.5%), the non-extradition of Svetozar Marović by the Serbian authorities (13.9%), ban on the entry of certain individuals from one country to another (13.2%), poor transport connectivity (13%), the external influence of Russia (12.9%), the position of Montenegrins in Serbia (11.2%), while 16% having no opinion on this issue.
With the possibility of multiple answers, nearly half of the citizens (49.1%) believe that Montenegro and Serbia should not have common policies and that each should take care of their priorities, while 45% think it would be good to have a common transport strategy, 31.8% support a common foreign and defence policy, and 31.4% prefer a common financial and economic policy.
Opinions are divided on whether Serbia has an obligation to protect Serbs from Montenegro, with the majority being Serbs and those who vote for ZBCG, SNP, DCG, and PES.
"In recent years, the trend of Western partners losing influence in Montenegro has been confirmed by the findings of this research, seen through the perspective of those perceived as the main foreign policy pillars for Montenegro. The EU stands at the top of the list with 54.7%, followed by Serbia (15.3%), Russia (6.9%), and the United States (5.6%). Germany stands out, despite being an EU member (2.4%), while China, Turkey, and the United Kingdom are mentioned in small percentages. While members of minority people and Montenegrins are more oriented towards the EU, Serbs tend to see Russia and Serbia as their main foreign policy pillars, while Croats, Bosniaks, and Muslims rely the most on the United States. The lowest percentage of those who see the EU as the key foreign policy pillar is from the ZBCG coalition and the SNP," Uljarević explained.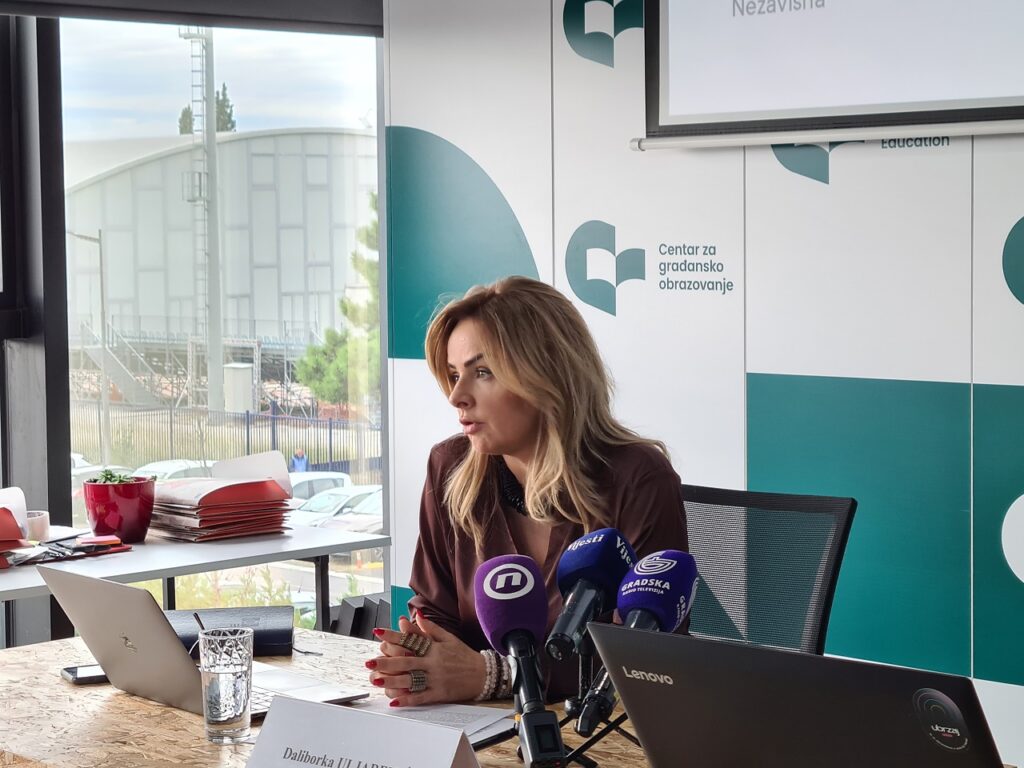 Currently, 77.4% of citizens support Montenegro's path to the EU, while 17% are against, and less than 6% are undecided. Membership in NATO is supported by 55%, 36% are against, and less than 9% have no opinion.
Vuk Čađenović, Executive director of the DAMAR Institute, presented the findings in identity issues part of research.
"There is 72% of the respondents that think that there is Montenegrin national identity independent of Serbian one, while this view is not shared by 22%, indicating a minority but significant group of citizens who believe that the Montenegrin identity is exclusively linked to the Serbian. Interestingly, a small percentage of individuals do not have a clear stance on this issue. On the other hand, the Montenegrin language is recognized by the majority of 63.5%, while it is not recognized by 36.5% of citizens of Montenegro," said Čađenović.
The findings are divided regarding the perception of the relationship between the Serbian Orthodox Church (SPC) and the state of Serbia, with about a quarter of respondents (25.1%) believing that the SOC is an integral part of the state of Serbia, i.e., they believe that the SOC collaborates with the state but maintains its autonomy (24.5%). A smaller number (18.7%) believes that the SOC operates independently of the state of Serbia. The largest percentage of respondents (31.7%) cannot decide on this matter.
"Nearly two-fifths (39.6%) of citizens believe that the Montenegrin Church was autocephalous, about a quarter (25.3%) hold the opposite opinion, while a significant number (35.1%) is undecided on this issue, which may indicate a lack of information or different interpretations of historical events," explained Vuk Čađenović.
The question of possible autonomy for the Metropolitanate of Montenegro and the Littoral (MML) within the SOC generated diverse responses. About one-fifth believes that the MML should have autonomy within the SOC, but a similar percentage is against such an idea. Approximately 16.6% are undecided, and almost 15% believe that the MML already has autonomy. The largest percentage (26%) does not have a clear stance on this issue. Regarding the consequences of possible autonomy for the MML within the SOC, about a quarter of respondents believe it would have no significant impact, or that autonomy for the MML could improve Montenegrins' attitudes towards the SOC, while about 15% believe that such a decision could alienate Serbs in Montenegro. However, the largest percentage of respondents (34.8%) cannot determine the consequences of such a decision.
"The majority of 43% believe that the SOC influences the internal political situation in Montenegro, while 28% do not believe that the SOC has a significant impact on the country's political affairs, with almost a third having an undefined stance on this issue. The question of church property ownership in Montenegro has predictably generated divided responses. About 22.5% believe that church property should belong to the SOC, 16% opt for the MML, and 21% for MOC. It is significant to note that 25% of respondents believe that church property should be in the ownership of the state of Montenegro. About a fifth do not have opinion on this issue," said Čađenović.
Over two-fifths (44%) of citizens state that they are not familiar with the content of the Fundamental Agreement signed between the Government of Montenegro and the SOC, while about a quarter (25.3%) claim to be familiar with it, and less than a third (30.8%) assert that they are partially informed about the content of that agreement.
The majority (47.9%) of citizens believe that Njegoš belongs to Montenegrin culture, over a third (36.3%) think he is part of both Montenegrin and Serbian cultures, while 15.8% view Njegoš exclusively as part of Serbian culture.
The majority (over 70%) do not perceive either Serbs or Montenegrins as currently endangered or discriminated against in Montenegro. Among those who believe such discrimination exists, the most common areas associated with it are employment, the practice of religious customs, or the exercise of other civil rights.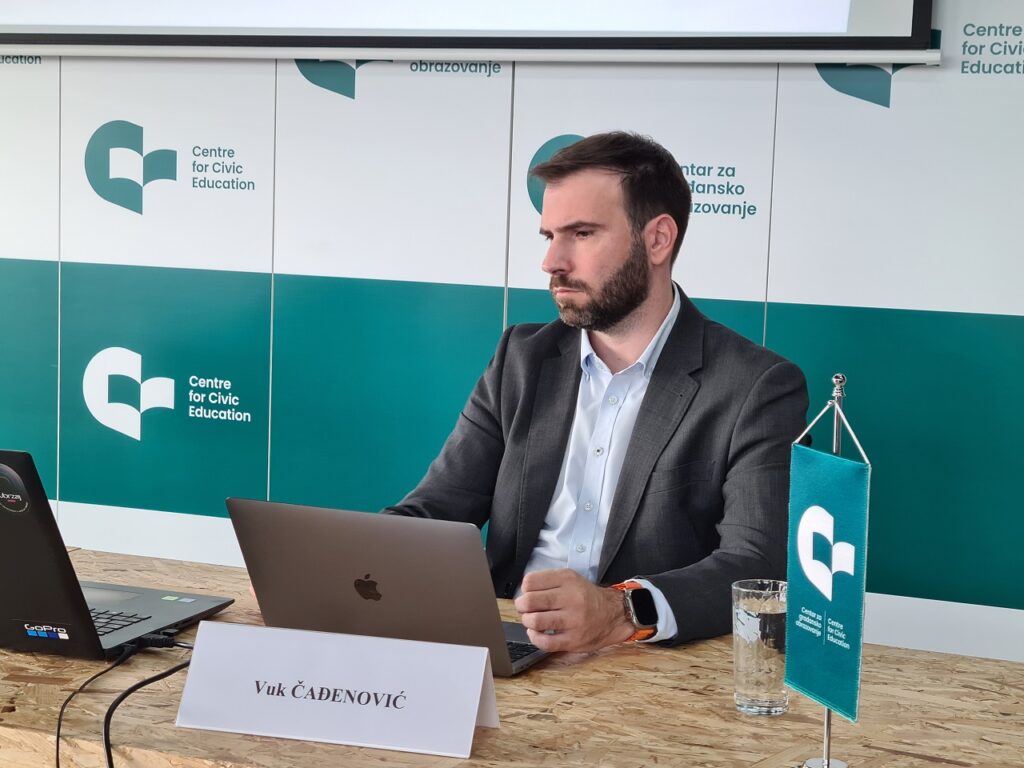 Regarding the religious processions (litije) that took place during 2020, most respondents (58.6%) say they did not support them, while 41.4% claim otherwise. In relation to the outcome of the 2020 parliamentary elections in Montenegro, 43% believe that religious processions significantly influenced the results, and an additional 37% think they had some influence. Only 8.1% believe that the processions had no impact, while around 12% do not have a opinion on this issue.
"The responses of Montenegrin citizens clearly indicate the presence of a distinct Montenegrin national identity and language independent of Serbian. However, perceptions of the role of the SOC are divided, especially when it comes to its influence on internal political affairs and church property ownership. Njegoš is mostly seen as part of Montenegrin culture but also as a bridge between Montenegrin and Serbian cultures. The majority of citizens believe that there is no discrimination against Serbs or Montenegrins. The religious processions held in 2020 are perceived as a significant political event that influenced the parliamentary elections held in the same year," concluded Čađenović.
A specific segment of the research focused on a series of questions that shed light on value determinants.
"Regarding the legacy from World War II, about one-third (32.3%) see partisan movement as more familiar to them, while less than one-fifth (18%) chose Chetnik movement, and almost half cannot currently decide (49.7%). The stance that genocide occurred in Srebrenica have 60%, while nearly a quarter (23%) hold the opposing view, and less than one-fifth do not have an opinion (17%). The independence of Kosovo is supported by 44% of citizens of Montenegro, with 38.5% against, while less than a fifth remain undecided on this issue (17.5%). Generally, 41.3% of respondents in Montenegro support Ukraine in the Russia-Ukraine war, while 24.3% support Russia, with over a third being undecided. A similar stance exists regarding the sanctions imposed by the EU on Russia, and when it comes to Montenegro's decision to impose sanctions on Russia. The opinion about the dangers of Russian influence in the region is divided, with a slight inclination towards it being considered dangerous (37.1%) rather than not (35.6%), with the note that over a quarter (27.3%) cannot make up their minds," said Daliborka Uljarević.
She stressed that this segment of value determinants relates to a sample that reflects the overall population, but also that in the context of current events in Montenegro is important to note that these prevailing attitudes may not be reflected in the structure of the new government and authorities as things stand now.
"In this Government, if we look at affiliations based on political parties, there will be a dominance of those closer to the Chetnik movement (ZBCG – 60%, SNP – 48%, PES – 27%, DCG – 27%, with over half of PES and DCG supporters being undecided on this issue), then those who deny that genocide occurred in Srebrenica (ZBCG – 86.6%, SNP – 64.4%, PES – 41.6%, DCG – 41.5%), those for whom the independence of Kosovo is not a closed issue (ZBCG – 96%, SNP – 84%, PES – 55%, DCG – 55%) and also those who are on Russia's side in the Russia-Ukraine war (ZBCG – 75.4%, SNP – 60%, PES – 42%, DCG – 40%, with 47% of DCG supporters being undecided) and consequently do not support sanctions against Russia or believe that Russian influence is dangerous to the region (ZBCG – 82%, SNP – 64%, PES – 66%, DCG – 44%, with 35% of DCG supporters being undecided)," Uljarević emphasized.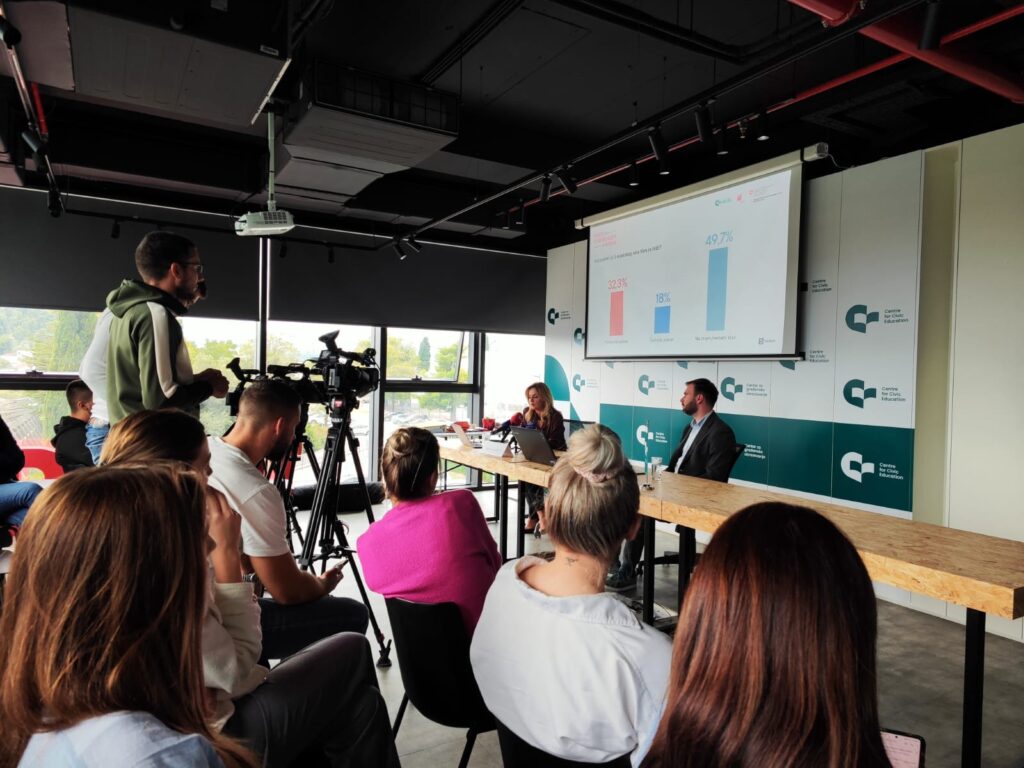 The research simultaneously conducted in Serbia and Montenegro is part of the project "Plenum on Montenegrin-Serbian Relations!" implemented by CCE from Montenegro in cooperation with ADD from Serbia, with financial support of the Embassy of Switzerland. The findings of the research conducted in Serbia will be presented tomorrow in Belgrade.
The research in Montenegro was conducted by the Damar Institute in the period from 2 to 10 October 2023, on a stratified three-stage sample of 995 respondents, with application of the CAPI method.
The main object of the project is to create a new narrative that promotes respect for good neighbourly relations, religious rights, multi-ethnicity, multiculturalism, European values, human rights, and highlights positive examples of efforts by groups and individuals during the wars and crises of the 1990s as true heroes for new generations. Specific objective is to identify the main causes of the complexity of relations between two historically related and close communities – the Serbian and Montenegrin communities – and establish a roadmap towards their significant and sustainable improvement.